Surprise Baptism
Posted on Thursday, August 24, 2017 by Heidi Brunsting
By Ken Allen, Executive Director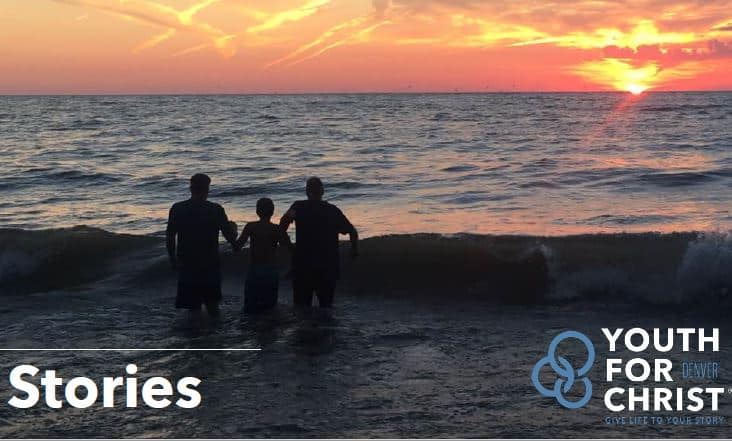 "I can do everything through him who gives me strength." Philippians 4:13
This is the verse that my son, Caleb, shared before he had made the decision to get baptized on July 27, 2017 on our family vacation in Lake Michigan.
He went onto to say to us that, "I chose this verse, because it reminds me that everything I do is for God and that he sacrificed His son to save me. I am getting baptized, because I want to give Him something back: me. I am also getting baptized to let people know my love for God and that I will serve Him in everything I do. He is giving me this opportunity to do good. So, I want to be an example of what He has done and what He is doing."
This journey started in the fall of 2015, through the ministry of Denver Area Youth For Christ. Andi Woodring, one of our Campus Life Directors, had numerous conversations with Caleb and others about what it means to be a Christian.
After a meeting time in September of 2016, Caleb came out the car and shared with me that he wanted to pray to accept Jesus as His Savior and become a Christian! What an amazing day and year as Caleb continued to grow in his faith. This summer, Caleb had the chance to attend Camp for 2 weeks and go to Disneyland with Campus Life. He chose to get baptized and wanted to do it in front of family and friends in a special place for our family. Praise God!
Thank you for being a part of the ongoing conversation with youth just like Caleb in our city and helping us share God's story. It's our honor to be the storytellers on your behalf who meet kids right where they are and give life to their story.

Providing young people in our community with the opportunity to make an informed decision to be a follower of Jesus Christ and become part of a local church.