The Body of Christ
Posted on Tuesday, August 15, 2017 by Heidi Brunsting
By Kaylee Waldron, Juvenile Justice Chaplain and Site Director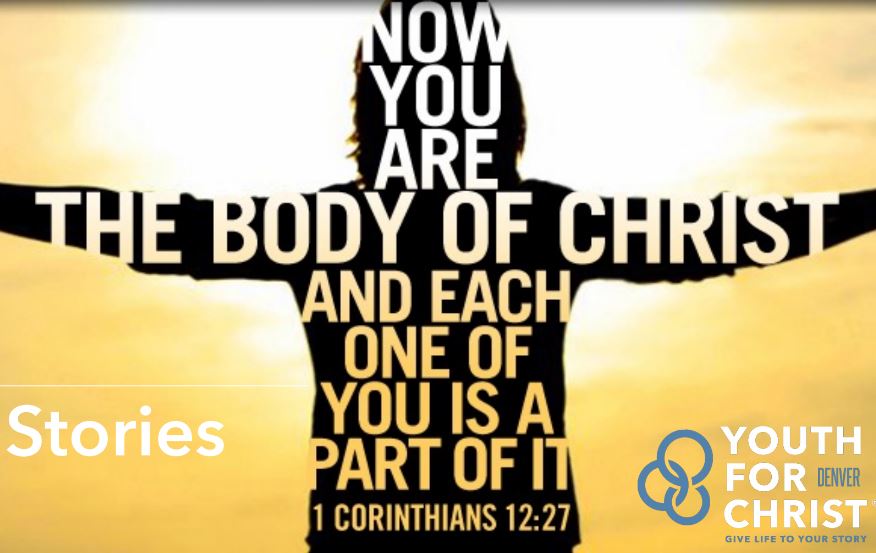 I talked to David during church and he told me that he wasn't sure if he was ready to fully commit to God because he's scared, but he later wrote a prayer note saying that he actually did want to make that decision. The next time I saw David he walked right up to me…
"Let's have a discussion."
"Haha ok, David, last time we talked you mentioned that you're not sure how to know if you have a relationship with God, do you want to talk about that?"
"Yes. I want to have the Holy Spirit but I don't feel like I do, like I can't feel him."
"Why do you think you can't?"
"Because I don't deserve it."
"Why do you think that?"
"Because I'm just a baby Christian. And when you have the Holy Spirit doesn't he give you spiritual gifts? I can't do any of those things."
"1 Corinthians 12: 3-6 says, 'therefore I want you to understand that no one speaking in the Spirit of God ever says "Jesus is accursed!" and no one can say "Jesus is Lord" except in the Holy Spirit. Now there are varieties of gifts, but the same Spirit…and there are varieties of activities, but it is the same God who empowers them all in everyone.'
So, do you believe and can you say that Jesus is your Lord?"
(After a long thoughtful pause) "Yes I can!"
"Then the Bible says that you have the Holy Spirit already. So, that means you do have a spiritual gift, we all do."
"How do I find out what mine is?! I want to know!"
"There are worksheets that we can fill out together that will help you figure out what you think your spiritual gift might be, would you like to do that the next time that we talk?"
"Yes! I really want to do that! I also have a lot of other questions too!"
This is only one part of a much bigger story with David. Thank you for being a part of the ongoing conversation with youth just like David in our city and helping us share God's story. It's our honor to be the storytellers on your behalf who meet kids right where they are and give life to their story.

Providing young people in our community with the opportunity to make an informed decision to be a follower of Jesus Christ and become part of a local church.