Change a Troubled Life in 2015
Posted on Wednesday, December 31, 2014 by Heidi Brunsting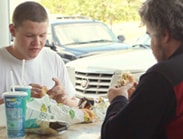 January is National Mentoring Month and we need to match 30 kids with a mentor!
One of our main ministry focuses in YFC Denver is matching every kid who wants one, with a loving, christian, adult mentor. It is one of the most time consuming but effective strategies we have. Currently, we have over 30 boys and girls who are waiting for a mentor. These are kids who have requested a mentor, and we want to do everything we can to find a match for each one!
If God has been whispering in your ear about getting involved in a troubled teen's life, allow me to shout:
THE TIME IS NOW. THESE KIDS NEED YOU!
And you can do it in just a couple of hours per week.
Consider the following widely accepted research:

School
Youth are five times more likely to graduate if they have a meaningful relationship with an adult mentor.
52% less likely than their peers to skip a day of school
37% less likely to skip a class
Sex, Drugs & Alcohol
Youth who meet regularly with their mentors are 46% less likely than their peers to start using illegal drugs and 27% less likely to start drinking
98% of teens with a mentor avoid teen pregnancy
Jobs
Mentors help young people set career goals and start taking steps to realize them.
Mentors introduce young people to professional resources and organizations they may not know.
Mentors can help their mentees learn how to seek and keep jobs.
Crime
Without effective intervention as many as 70% of children with incarcerated parents/caregivers will become involved with the criminal justice system
Kids who have been in trouble with the law are 67% less likely to become repeat offenders if they have a mentoring relationship
98% of kids with a mentor avoid gang activity
Mental Health
Consistent across risk groups, is a reduction in depressive symptoms — noteworthy given that almost 25% of youth report worrisome levels of these symptoms.
Findings also suggested gains in social acceptance, academic attitudes and grades.
Jesus
In YFC we find that kids learn to trust Jesus because they learn to trust his/her mentor! Kids who come to Jesus through a relationship with a mentor, have a built in discipleship relationship going forward. Often, the mentor/mentee relationship lasts for many years. And it always changes two lives!
If you would like to become a mentor to a juvenile offender, a teen mom or teen dad, a foster kid or a Campus Life high school or middle school student, please click on this link to find out more. Or email our Director of Mentoring, Gareth Unruh.
It will change both of your lives!